2022 Battle of Bovington Race Results & Info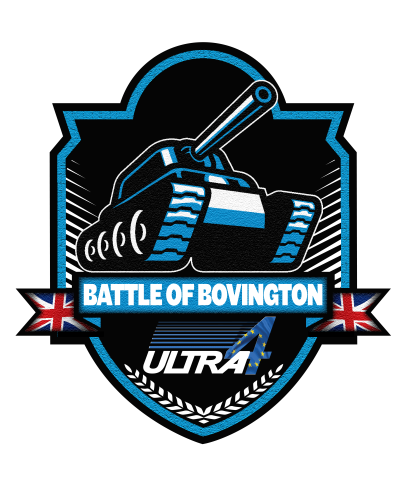 2022 Battle of Bovington Overall Results

Details on ULTRA4EUROPE BATTLE OF BOVINGTON are as follows:
ULTRA4EUROPE
BATTLE OF BOVINGTON   28-30 OCT 2022
EVENT INFORMATION TO DRIVERS AND MARSHALS
Welcome and thank you for entering our final event in the UK and European Championship, Battle of Bovington, 28-30 Oct 2022. All at ULTRA4EUROPE hope that you have a successful event for both your Team and your sponsors and trust that Battle of Bovington 2022. will test your vehicle preparation, team flexibility and persistence to keep going, will be key to success at the Event and only the fastest and best prepared team will succeed!!!
INTRODUCTION
This is the Driver Final Event information for the final event in the British Championship Series run by Ultra4Europe – BATTLE OF BOVINGTON (BOB) – to be held at Wool Heath, Dorset, over the period 28-30 Oct 2022.
Hopefully this document will give competitors and Service Crews the basic information you will need to get you to the venue and get set up ready to take part in the event. In the case of needing any further information that is specific to your own Team, please contact either Drew Wright or Chris Bowler at the contact details below.
LOCATIONS
Event Location and full address:
ADDRESS: The Armour Centre, Bovington Military Training Area – (Wool Heath), Wareham, Dorset, BH20 7NQ
WHAT3WORDS co ordinates of site entrence:  (noon.rinse.imprinted)
Event key locations on site are shown on the2  earthpics below: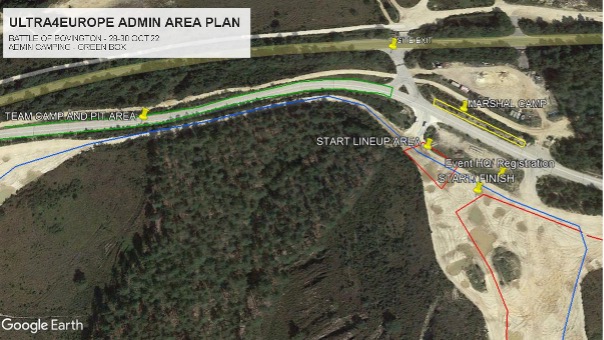 EVENT AND LOCAL FACILITES
We are planning showers and toilets on site and a pressure washer system with water for washing vehicles. There will be a catering van on site from Saturday, 0700hrs 29 Oct 22   - Sunday 30 Oct 22.
Local Town Facilities – (WHAT3WORDS locations):
Fuel Station –  24 hour fuel Garage in Bere Regis :  (oiled.sitting.taller)
Supermarket :
GREGGS - (recording.tests.bronzed)
TESCO – (weeps.awoken.behaving)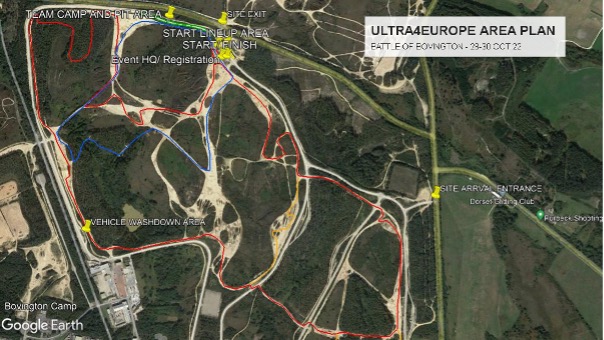 EVENT SCHEDULE AND FORMAT
Event Schedule
The event schedule is set out below: (This schedule is subject to change and details of any changes will be published at Race Registration and on FACEBOOK - ULTRA4EUROPE page).
FRIDAY 28 OCT 22
From 1400hrs – Teams arrive at entrance to Area and move to Admin area and set up camp areas
1730- 2000hrs  - Qualifying Course prepared and start area built
1845hrs – Drivers Briefing at Event HQ
2000 - 2200hrs – Qualifying course  – 1 lap per team, fastest team wins.
SATURDAY 29 OCT 22
0745 – 0845hrs - Marshal Briefing and deploy to course locations.
Session 2
0845 - 0900hrs – Main raceday 1, Heat 1 – Team line up and Media
0900-0920hrs – Heat 1 – EMC class race 1 (20mins – 2 laps)
0920 - 0930hrs – Heat 2 lineup
0930--0950hrs – Heat 2 – 4400/WRR class race 1 (20mins – 2 laps)
0950 – 1000hrs – Heat 3 lineup.
1000-1020hrs – Heat 3 – EMC class race 2 (20mins – 2 laps)
1020-1030hrs – Heat 4 Lineup
1030 – 1050hrs – Heat 4 – 4400/WRR class race 2 (20 mins – 2 laps).
1050-1120hrs – Break (30 mins)
Session 3
1120-1130hrs – Heat 5 line up
1130-1220hrs – Heat 5 – EMC class Race 3 (50 mins – 6 laps).
1220-1230hrs – Heat 6 Lineup.
1230-1320hrs – Heat 6 – 4400/WRR class race 3 (50 mins – 6 laps)
1320 – 1330hrs – Heat 7 lineup.
1330-1450hrs – Heat 7 – EMC class Race 4 (1hr 20mins – max laps)
1450-1500hrs – Heat 8 Lineup.
1500-1620hrs – Heat 8 – 4400/WRR class Race 4 (1hr 20mins – max laps) .
1620-1700 – Break (40 mins)
Session 4
1700-1710hrs – Heat 9 Lineup
1710-1730hrs – Heat 9 – EMC class Race 5 (20mins – 2 laps)
1730-1740 – Heat 10 Lineup
1740-1800hrs – Heat 10 – 4400/ WRR class Race 5 (20 mins – 2 laps)
1800hrs Course closed.
SUNDAY 30 OCT 22
0745-0845hrs – Marshal briefing and deploy marshals to course locations
Session 5
0845 - 0900hrs – Main raceday 2, Heat 11 – Team line up and Media
0900-0930hrs – Heat 11 – EMC class race 1 (30mins – 5 laps)
0930 - 0940hrs – Heat 12 lineup
0940-1010hrs – Heat 12 – 4400/WRR class race 1 (30mins – 5 laps)
1010 – 1020hrs – Heat 13 lineup.
1020-1100hrs – Heat 13 – EMC class race 2 (40mins – max laps)
1100-1110hrs – Heat 14 Lineup
1110 – 1150hrs – Heat 14 – 4400/WRR class race 2 (40 mins – max laps).
1150 – 1230 – Break
Session 6
1230-1240 –  Heat 15 lineup
1240-1340hrs – Heat 15 – EMC class Race 3 (1hr – max laps).
1340-1350hrs – Heat 16 Lineup.
1350-1450hrs – Heat 16 – 4400/WRR class race 3 (1hr – max laps)
1500hrs – Course closed – all team vehicles removed from course area
1500-1600hrs – remove course equipment
1600hrs – BOB prize giving
Event Format
The event is a mixed heats format with all U4 classes racing at different times on a similar course. The main course will be used for all classes and there will be changes to the course after certain heats to make driving a different experience.
The main race event will be divided into 6 competitive sessions, 1 on the Friday night, 3 on the Saturday and 2 on the Sunday. Teams are expected to compete in each session - Start order of the subsequent race session is based on the finish order of the previous session. Overall finish positions are based on the Team with the maximum number of complete laps in the fastest time.
The schedule is designed to be fast and flowing – TEAMS MUST PAY ATTENTION TO THE TIMINGS and assist Core Team staff and be ready for line up times – Late for line up may stop you racing!!!
Event Qualifying
All Teams will take part in a 2 hour qualifying event as per the schedule, the result of which will give them a start position for Raceday 1. This qualifying event will allow teams to complete 1 lap to get their best time. More details of this qualifying event will be given in the Driver Briefing, as per the schedule.
Raceday 1
During Raceday 1, Teams will take part in class based heats over different course lengths and with varying heat times to achieve either set laps or max lap efforts. Timings and heat details are outlined in the event schedule and more details will be given in the Driver briefing. All complete laps only to count
Raceday 2
All Teams, will continue on Sunday, to race in class based heats over varying distance/ time to achieve set lap counts or max lap efforts. All Timings and heat details are outlined in the event schedule and more details will be given in the Driver briefing. All complete laps only to count.
ARRIVAL DETAILS AND ADMIN AREA
Due to ongoing Military Training on site, the venue will be open for competitors to access, from 1400 hrs on Fri 28 Oct 22.
Teams must arrive at Gate 4 – WHAT3WORDS location – noon.rinse.imprinted
They will be directed to a holding area along a concrete road where they will need to remain until we get full access to the Area. The holding area allows Teams to park up safety, rather than arriving and blocking/ disrupting public access roads. Teams wanting to pit together should plan to arrive together, so they are parked together in the holding area.
Once we gain FULL ACCESS to the area, all Teams will be called forward to a pit location. The pit area is a concrete hard standing where Team pit areas will need to be well controlled to maximise the space available and still allow passage along the road.
Each team will be allocated an area in the paddock for pits, parking and camping. All of your team's vehicles and equipment must be contained within your area. The entrant assumes all responsibility for the actions and behaviour of those occupying their paddock area. The organisers accept no responsibility for security on the site. All roads through the paddock must be kept clear at all times.
There must be no vehicle testing or speeding in the Camping Area, Car Parks or on the Site Access Road.
The following rules apply to the paddock:
            Parking & pits areas: 10 kph speed limit for all vehicles at all times
No motorbikes, pit bikes or quad bikes without rider wearing helmets.
CURRENT RULES ON MILITARY LAND DO NOT ALLOW DOGS TO BE PERMITTED ON SITE.
All children to be kept under close control
Grounded BBQ's are allowed but no open fires – firepits contained and under control at all times.
 No generators or loud music after 2230hrs
All vehicle servicing to take place on an impermeable groundsheet
All vehicle fluids to be contained and removed .
Vehicle can only be washed down at the designated washdown area shown on the Area Location Plan above.
All rubbish to be removed completely from site. There will be no refuse facilities on site.
SITE EXIT/ RE ENTRY DURING EVENT
If teams need to leave site for fuel/ spares/ admin, the gate to exit and re enter the site is located near the Event HQ at WHAT3WORDS LOCATION -SWIMMER.LECTURING.PRANK
This gate will be controlled up to 2200hrs every night and will be locked between 2200-0700hrs
DRIVER/CO DRIVER INFORMATION
Team signing on. Tech and Driver Briefings
All competing crews will be required to complete documentation and licence information at the Event Registration Area shown in the plan above. Driver and co-driver must both Sign-On at Registration.   Team driver/ co driver will need to present/ confirm the following documents:
Drivers/ Co Driver License NORA 92 Competition License (these can be purchased at the event).
Event payment and entry details.
All competing vehicles will be subject to safety checks which will be carried out at the Tech Area at Event HQ shown in the plan above.
Once signed on and tech inspected, you will be given wristbands which must be worn at all times during the event.  
Teams are responsible for ensuring they get a timing transponder fitted to their vehicle. Transponder are charged at £25 /event as part of the entry fee or can be purchased as an outright purchase from NORA 92. Transponders must be fitted to the vehicle, in such a location that it has a direct line of sight from mounting position to the ground. Transponders can be tested at the start line once timing keepers are set up.
The Driver briefings will be held as per the schedule above at the Registration/ Event HQ location. Some basic race procedure information is shown below but specific information for the course and event format will be confirmed at the briefing.
RACE COURSE INFORMATION
Pre-Running and recce of Course –
Due to time constraints, there will be no Pre Running  
Course Markings
Qualifying course is marked using WHITE arrows and WHITE boundary tape.
Main Race Course is marked using ORANGE arrows and WHITE boundary tape.
Safety
All competing teams must wear helmet, Frontal Head Restraint, gloves, race fire suit, harnesses and have door nets fitted correctly whenever competing or during Pre-Running. All competing vehicles must have passed Tech Inspection prior to competing.
Flags
ULTRA4 EUROPE use the following flags system:
GREEN Flag denotes race START or GO.
YELLOW Flag denotes slow down, drive with caution, no overtaking and follow marshal directions.
RED Flag denotes STOP immediately, do not overtake vehicle in-front and wait for marshal directions.
CHEQERED Flag denotes race or heat over, slow down and return to Admin area/ follow marshal instructions.
SOS Boards
U4E uses the following safety system whilst vehicles are on live course to swiftly deal with emergencies on course:
If at anytime a Team has to stop on course during a race for a safety/ emergency reasons, they must deploy SOS board, visible from the course direction towards that vehicle to alert other drivers that there is a need for help. First team on scene must STOP and assist. Second Team on scene must get vehicle No., crew name and status and drive to next Marshal location and alert Race Ops of the situation.
If at anytime a Team has to stop for a non emergency reason, they must deploy a OK board on rear of the vehicle in full view of following vehicles. When seen by other teams, there is no requirement to stop and assist.
Marshals and Recovery
There will be marshal locations at various points on course. They are eyes and ears for Race Ops but also the easiest and quickest way for a Team to request assistance. Please follow all marshal directions and decisions.
Recovery will be on hand to remove vehicles stuck, broken down or needing assistance to return to admin area. This will be controlled by Race Ops. Any vehicle using recovery will be deemed as to have had outside assistance. The lap this has occurred on will be voided from the Team lap count.
ADMINISTRATION
Campsite safety
All Teams must be aware of the fire risks associated with Motorsport and the close proximity of Team campsites co-located. All Teams must ensure the following is carried out in their camping area:
            Make sure area is kept tidy and free from unnecessary clutter.
            Keep all flammable containers tightly sealed and ideally in 1 location within the camp area.
Teams must have at least 1 fire extinguisher within their camping area, 24 hours a day,  readily available and its location known to all Team members.
All Team members must have access to a torch at night time so that in the event of a fire anywhere on the camping area, they have sufficient light to escape the location, should they need to do so.
Please respect the location where we are guests at:
Take all litter home and leave nothing on site when departing.
            Leave your admin pit location as you found it.
            NO open fires allowed -  BBQ areas controlled correctly.
            Please keep noise to a minimum during the hours 2230-0700hrs.
THE REGULATIONS FOR USING MILITARY LAND DO NOT ALLOW DOGS ON SITE.
CONTACT DETAILS DURING EVENT
Chris Bowler – ULTRA4EUROPE Director – 00447989966740 – chris@ultra4europe.com
Drew Wright – ULTRA4EUROPE Director -  00447950633712 – drew@ultra4europe.com
@font-face {font-family:Helvetica; panose-1:0 0 0 0 0 0 0 0 0 0; mso-font-charset:0; mso-generic-font-family:auto; mso-font-pitch:variable; mso-font-signature:-536870145 1342208091 0 0 415 0;}@font-face {font-family:"Cambria Math"; panose-1:2 4 5 3 5 4 6 3 2 4; mso-font-charset:0; mso-generic-font-family:roman; mso-font-pitch:variable; mso-font-signature:-536870145 1107305727 0 0 415 0;}@font-face {font-family:Calibri; panose-1:2 15 5 2 2 2 4 3 2 4; mso-font-charset:0; mso-generic-font-family:swiss; mso-font-pitch:variable; mso-font-signature:-536859905 -1073697537 9 0 511 0;}@font-face {font-family:"Open Sans"; panose-1:2 11 6 6 3 5 4 2 2 4; mso-font-charset:0; mso-generic-font-family:swiss; mso-font-pitch:variable; mso-font-signature:-536870161 1073750107 40 0 415 0;}p.MsoNormal, li.MsoNormal, div.MsoNormal {mso-style-unhide:no; mso-style-qformat:yes; mso-style-parent:""; margin-top:0in; margin-right:0in; margin-bottom:8.0pt; margin-left:0in; line-height:107%; mso-pagination:widow-orphan; font-size:11.0pt; font-family:"Calibri",sans-serif; mso-ascii-font-family:Calibri; mso-ascii-theme-font:minor-latin; mso-fareast-font-family:Calibri; mso-fareast-theme-font:minor-latin; mso-hansi-font-family:Calibri; mso-hansi-theme-font:minor-latin; mso-bidi-font-family:"Times New Roman"; mso-bidi-theme-font:minor-bidi; mso-ansi-language:EN-GB;}p.xp1, li.xp1, div.xp1 {mso-style-name:x_p1; mso-style-unhide:no; mso-margin-top-alt:auto; margin-right:0in; mso-margin-bottom-alt:auto; margin-left:0in; mso-pagination:widow-orphan; font-size:12.0pt; font-family:"Times New Roman",serif; mso-fareast-font-family:"Times New Roman"; mso-ansi-language:EN-GB; mso-fareast-language:EN-GB;}span.xs1 {mso-style-name:x_s1; mso-style-unhide:no;}.MsoChpDefault {mso-style-type:export-only; mso-default-props:yes; font-size:11.0pt; mso-ansi-font-size:11.0pt; mso-bidi-font-size:11.0pt; font-family:"Calibri",sans-serif; mso-ascii-font-family:Calibri; mso-ascii-theme-font:minor-latin; mso-fareast-font-family:Calibri; mso-fareast-theme-font:minor-latin; mso-hansi-font-family:Calibri; mso-hansi-theme-font:minor-latin; mso-bidi-font-family:"Times New Roman"; mso-bidi-theme-font:minor-bidi; mso-ansi-language:EN-GB;}.MsoPapDefault {mso-style-type:export-only; margin-bottom:8.0pt; line-height:107%;}div.WordSection1 {page:WordSection1;}